S.T.A.L.K.E.R. 3: CALL OF PRIPYAT
Step-by-step guide by Tore Andersen
REQUIREMENTS
1: STALKER - Call of Pripyat, updated to version 1.6.02 or newer. (The Steam version comes already updated)
2: Start the game at least once before installing mods.
3: After installation, start a new game. Old save-games will not work.
MOD-LIST
Download and install the following mods in listed order

Absolute Structures Texture Pack 1.0 (LINK)
Download, unpack and install.

New fsGame file (LINK)
Download and unpack to the game folder. Overwrite.

Complete Mod 1.0.2 (LINK)
Download and install.
*If for some reason the installer can't find the games installation folder, just download the package instead (LINK) - Follow instruction on the site.

Installation Options:
I highly recommend selecting "Installation for Advanced Systems".
When asked about AtmosFear's NPC Emission Exposure Consequence, select "Killed At Emission's End" if you don't want to change the original game.

Stalker Two-K Tiny (LINK)
Download and unpack into a temporary folder.
Open the "Grass_Pack_Addon" folder, and move the content of "Grass_CoP_2k" into the game-folder.
Open the "Stalker Two-K Tinny Little" folder and move the content of all folders into the CoP game-folder.
Open the "FX-Pack_Addon" folder and move the content of all folders into the CoP game-folder. Except for the following 3 folders:
"BetterFlashlight" Open the folder, and choose either version. I recommend "Long Range(50 meters)". Move the content into the game-folder.
"Nightvisons" Open the folder and choose either version. I recommend "Animated Green". Move the content into the game-folder.
"RemovedVisionEffects" Just delete this folder.

Stalker Two-K Update (LINK)
Download and unpack into the game-folder. Overwrite.

Weight Mod (DOWNLOAD)
Download and unpack into the game-folder. Overwrite.
*This will change how much weight you can carry from 60kg to 6000kg.

HDR ReShade (DOWNLOAD)
Download and unpack into the game folder.

Start S.T.A.L.K.E.R. - Call of Pripyat
Make sure all settings are at maximum. *I strongly recommend turning motion blur off.
Start a new game. Old save-games won't work with the Complete mods.
SCREENSHOTS
ReShade Original ReShade Original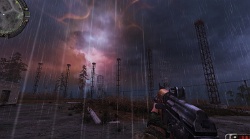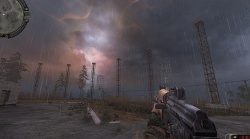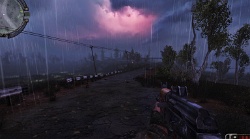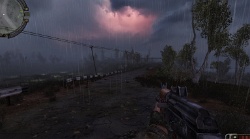 SUPPORT MAYHEM-7 MODS










FEATURES OF THE COMPLETE MOD 1.0.2
Weather System:
* New system based on both the "Complete Weather" & "AtmosFear". A massive weather overhaul with incredible diversity.
* 11 dynamic weather cycles (compared to only four in the base game) including unique probability factors for each environment area.
* 26 Complete Weather and 123 new photorealistic sky cube textures.
* Distant scenery texturing and an increased visual distance.
* Authentic scenery recreation from original Ukrainian photographs.
* High resolution nighttime constellation map and full moon.
* AtmosFear Emission sequence with dramatic scenery and a complex shockwave particle system.

Textures:
* Over a thousand new and reworked textures.
* Sharpened metal and concrete structures.
* Color corrected ground and foliage textures designed to be unique for each area.
* Reworked terrain.
* Detailed texturing for most weapons.
* Refined human and mutant body textures.
* New Firewood, leaves, sand and stones.
* Vehicles are now retextured to appear realistically rusted and abandoned.

Artificial Intelligence:
* NPCs are now able to determine the best weapon for the situation based on the number of rounds they have left for their weapon and distance to target.
* NPCs are able to mount add-ons, such as scopes, silencers, and grenade launchers, and use them accordingly.
* NPCs can now be equipped with player-selected weapons by either giving or selling to them. (Remember ammo too)
* NPCs avoid friendly fire, and they will even stop firing and switch positions if their allies get caught in it.
* NPCs use melee attacks with rifle butts and knifes when the opposition gets close enough.
* NPCs are able to heal themselves by using Med-kits if hurt badly and apply bandages when bleeding.
* Footsteps, knife use, silenced weapons, and the sounds of fallen bodies won't alert nearby enemies unless they are observed.

Bug Fixes:
* Unreachable Stashes Fix - Makes the unreachable stashes (such as items that are wedged or stuck in environmental geometry) accessible.
* Jupiter Scanners Fix - Fixes a bug where some anomaly scanners could be placed so they would cause errors in the mission's completion.
* X8 Burers Fix - Fixes a bug in scripting that gives the three Burers in the X8 secret room extremely large health regeneration.
* One Shot Fix - Fixes a potential game lockup during the One Shot mission cut-scene.
* Helmet Fix - The actor's helmet in third person view now matches the one equipped.
* Crow Fix – Fixed excessive crow spawning, eliminating the masses of crows that would occur after repeated quick-loading.
* PKM Iron-sight Fix - Enables the use of iron-sights on PKM machine gun.
* Berill-5M Fix - Allows Berill-5M armored suite to be upgraded.
* Bodies Cleaner - Removes creature bodies at certain time intervals, reducing their unnecessary presence, improving game performance.

Localization:
Better English translation.

Sound:
* Work by a special guest, internationally acclaimed sound designer and composer Michael "sQwurm" Tornabene.
* New sounds for creatures, anomalies, doors, a reworked footstep sound system.
* Improvements to ambient sounds are done with Ambient Audio Overhaul.
* Each map now includes a sound theme that varies between night and day.
* All weapon sounds have been replaced with comprehensive analogues.
* All of the new sounds have been integrated into the game without removing the original unique sounds.

Music:
* Over a hundred acoustic guitar and vocal songs, with 23 new compositions added.
* New guitar tracks have been added to the existing campfire music sets.
* This live music was recorded specifically for this game, creating an unforgettable ambience.

Zombies:
* This feature can be selected during the installation. If selected, NPCs who are caught in an emission wave will turn into zombies instead of being killed.

Features:
* Real Weapon Names - All in game weapons now are labeled after their real life counterparts.
* NPC Variation - Adds new NPC models and skins in the game-world for more variety.
* Sleeping Bag - S.T.A.L.K.E.R. Call of Pripyat features a newer native sleeping mechanic.
* Loot Money - Players will be able to randomly collect small amounts of money from dead NPCs.
* Absolute Scopes - Improves the scope system to be similar to those used in most modern FPS games.
* Breakable Bulbs - Lights can now break by being shot or by nearby explosions, changing the ambient environment.
* Elite Night-vision - Improves the green and black & white night vision.
* Teleport - Allows the player to jump between points in the environment with the ability to save custom location coordinates for future use.

User Interface:
* The HUD colors have been muted to be less distracting, and the inventory window is now semi-transparent.
* The HUD also features new hit-mark and mutant scratch textures.

What makes these mods different?
Besides being a collection of the best mods from the years following the release of the respective games, these mods have artwork and modifications from real professional artists. The games have been redesigned with new visual qualities, which both technically and artistically enhances the experience. Each mod for each game has been compiled into one single easy installer, which speeds up installation drastically.
ARTWORK